Maison Gourmande Taipei - Review
Most visitors to Taiwan don't realize the range of amazing Italian and French restaurants there are in Taiwan. Taiwan has an exceptional fresh produce on the island. Like Japan, Taiwan's fruits, vegetables, and pork are a matter of national pride for Taiwanese farmers. Maison Gourmande is one of many French pastry shops that take advantage of Taiwan's bounty.
Started by French Expatriate Löis Bellelle and his wife, Maison Gourmonde is a legit French pastry shop in Taipei. Over the last seven years, they have grown quite the following in Taipei. They focus on simple flavors that beautifully balance texture, tartness, and sweetness. If you like tart tartin, lemon pies, or St. Honore, Maison Gourmande is the place to go. If you like savory, their quiches are spot on. My favorite is his goat cheese and spinach tart. (Thank goodness he refuses to make a kale version!) Their macarons are to die for. No one in Taiwan needs to pay the absurd prices of Ladureé or Pierre Hermé.
I first became aware of the shop when regional foodie Jason Wang (now a contributor to the FundFriendsFoodTravel site) took me during a cold winters day. A few weeks ago, he asked me whether I'd be interested in filming the making of his birthday cake. He commissioned Löis to make a cake using Taiwan strawberries and Japanese Yuzu. So I headed over to film the making of the test cakes (yes plural) that preceded the 16-inch monster that he served to his family.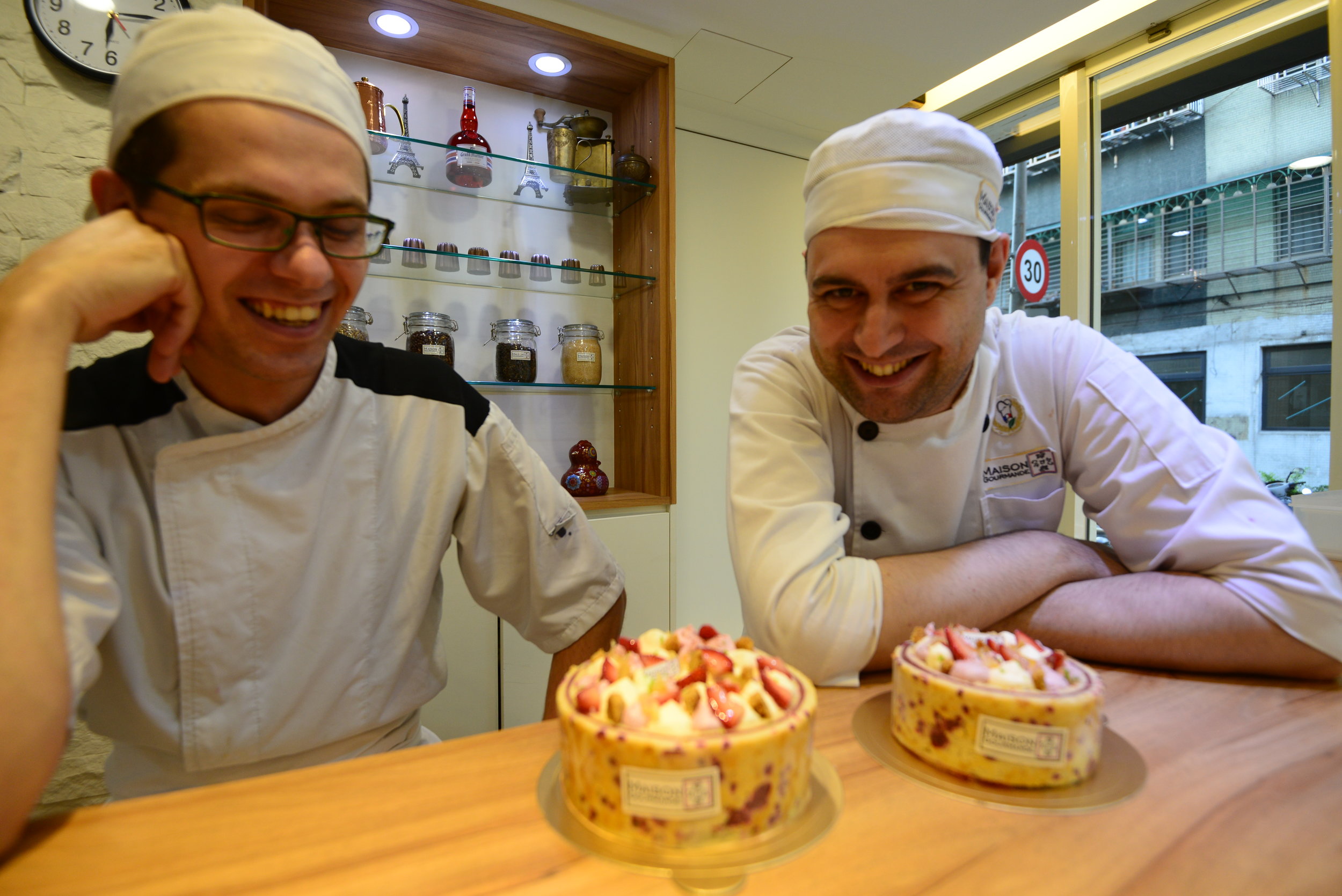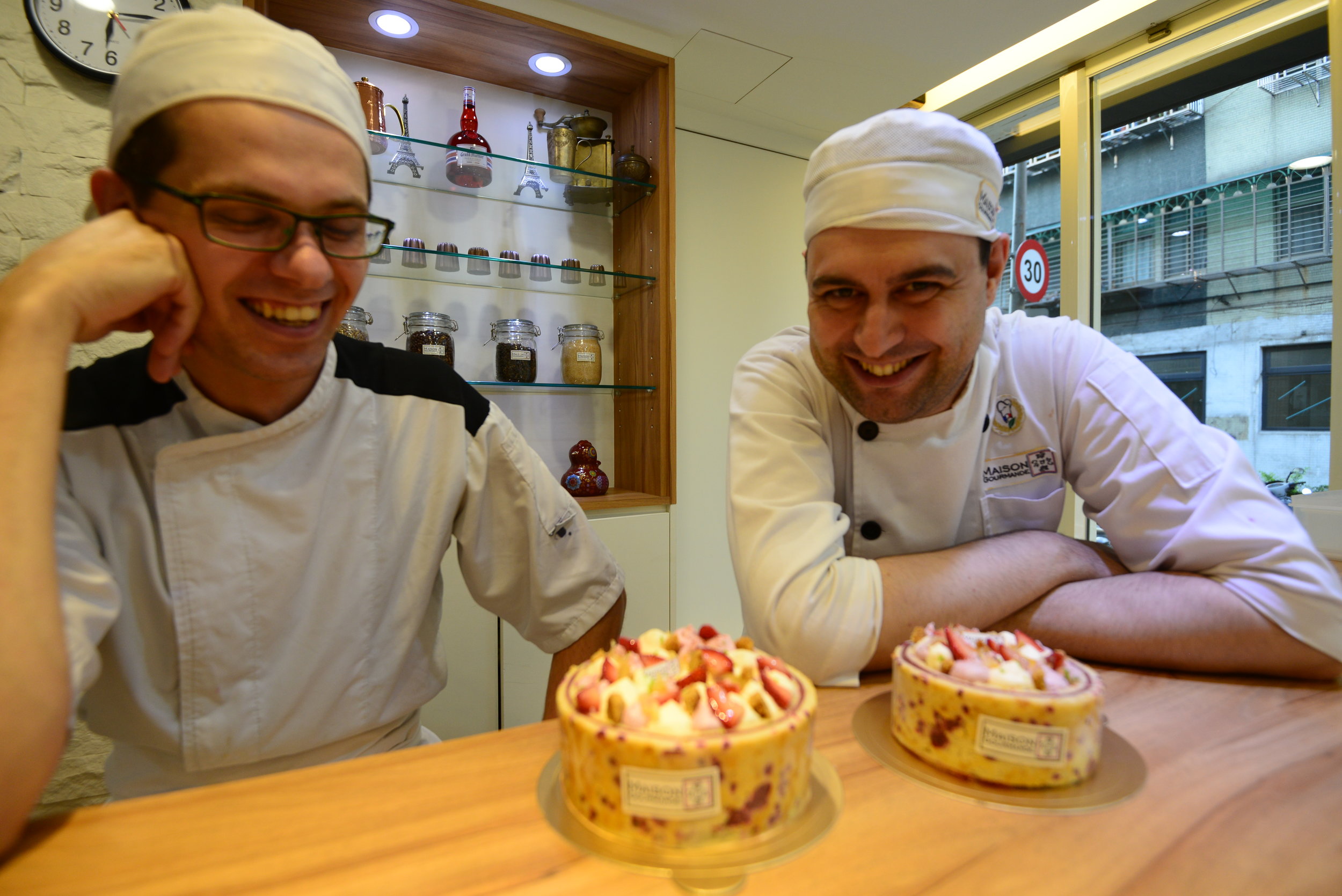 Those of you who have not had a chance to taste Taiwan strawberries, you haven't experienced the heady aromas. They are small, sweet and full of flavor. Nothing like the oversized, fibrous, under ripe fruit we eat in the UK and US. If you are any chef in Taiwan or Japan, you will allocate a percentage of fresh fruit to make a compote to enjoy later in the year. Löis perfectly balanced the sweetness of the strawberries with the tartness and fragrance of Japanese yuzu. Japanese yuzu is intense in aroma and tart. Unlike the yuzu grown in California, it does not have the slightly bitter aftertaste. Japanese yuzu is fresh and has a long finish.
Löis and his sous-chef created alternating layers of sponge cake and compote. The sponge cake was dotted with freeze-dried raspberries that added additional complexity to the cake's aromas. When you taste the cake, the yuzu and strawberry aromas fill your head. Amazingly, the cake is very light, you don't feel guilty about eating several pieces - which I happily did. (In the last section of our video short, you will see the final 16-inch cake.)
So those of you headed to Taipei this weekend to escape Hong Kong and Singapore, you'll want to swing by Maison Gourmonde. The freshness will make you want to kill yourself. Seriously, I don't know why I pay the prices I do in Singapore.
Jason is right. Good food is a right not a privilege in Taiwan.
****If you want to see the pastry chefs at work, go to Maison Gourmande main store, there is a huge window with a view into the kitchen.
Maison Gourmande
No. 153, Sanmin Road,
Songshan District,
Taipei City, Taiwan 105
Kent King
Kent is a management consultant who has spent years traveling for work. His refuge is looking for the perfect meal so that he can reproduce it at home with his wife and friends.